Philanthropist helps students give peace a chance
100 Projects for Peace provides seed money for conflict-resolution programs.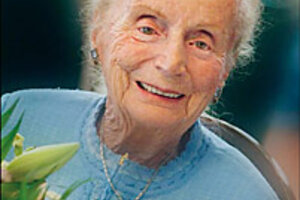 Courtesy of davis projects for peace
Kathryn Davis decided to give a gift to celebrate her 100th birthday: $1 million to galvanize college students' pursuit of an elusive goal – peace.
A philanthropist with a lifelong interest in international affairs, Mrs. Davis launched 100 Projects for Peace last summer. She was so pleased with the creative, practical proposals the winners came up with that when she turned 101 this year, she put out a call for 100 more.
"I started Projects for Peace because I was really a little discouraged about our world," Davis says in a phone interview from her winter home in Hobe Sound, Fla. "I got tired of feeling sorry for the younger generation.... I thought maybe [they] would come up with good ideas if I gave them the opportunity."
Rather than focus on wars and military policies, Davis says, many of the projects addressed "the fundamentals of life," such as the need for clean water in a village. "You can't expect people to be interested in peace in the world if they can't get water to quench their thirst," she says.
Colleges see the need to prepare young people for a borderless world, but very few can provide grants large enough for such projects outside the United States, says Brian Rosenberg, president of Macalester College in St. Paul, Minn., one of the schools that ran competitions for the peace grants. "This is an experiment in encouraging students to be individual social entrepreneurs," he says.
---