Schools use cash as an incentive to boost attendance and scores
Baltimore schools teach students about the stock market and let them keep money from their portfolios. Are cash rewards bribery or a creative way to inspire students?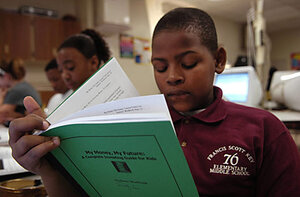 andy nelson – staff
Asia Cole usually finishes the newspaper on the bus before she arrives in front of her computer in the morning. That way she knows roughly what to expect when she logs on to check her stock portfolio. Clicking the keyboard of her Mac on a recent Friday, Asia adjusts her glasses and scans the latest market fluctuations – then calculates where her investments stand as the country flirts menacingly with recession.
Asia's morning ritual could be the same as any broker in a cubicle at Merrill Lynch or Goldman Sachs. Except her office isn't on Wall Street – she's sitting at her desk at the Francis Scott Key middle school here.
Asia is part of an unusual experiment in capitalism-meets-education in the Baltimore public school system. She's learning about the stock market, even managing her own portfolio, in an effort to understand the all-important subjects of economics and finance.
But the program also has another purpose: to help kids earn money in the hope that it will improve their attendance and grades.
Almost since the dawn of the classroom, parents and teachers have tried everything from bigger allowances to gold stars to motivate the next generation. Now some districts across the country are paying cash directly to students to boost achievement – despite often vocal opposition.
---