One town uses the arts to revive after hurricane Katrina
Bay St. Louis, Miss., taps painters and the cultural community nationwide to become a rare post-Katrina success story. Why are residents yelling 'Stellaaaaaaa?'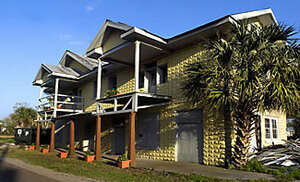 carmen k. sisson
The silence stretches long and languid as the sun sinks in the Mississippi sky, painting the crowd in slivers of gold. In the distance, a gull calls out across the Gulf of Mexico. A man steps forward and pauses, staring up at the curly-haired actress coquettishly smiling down from the balcony. He drops to his knees on the cracked sidewalk, throws his arms open, and screams: "Stellaaaaaaa!"
Then with a self-conscious grin, he leaps to his feet and makes way for the next "actor" to intone the famous line from a "Streetcar Named Desire," the play by Bay St. Louis favorite son Tennessee Williams, in the Stella-calling contest. On the contestant's black T-shirt, three white letters catch the eye: B.L.T. – Bay St. Louis Little Theater. To his left, a tin sign leans against the yellow building, spray-painted words underscoring the greater meaning of today's light-hearted event: The show must go on.
Hurricane Katrina drew the curtains on the theater, as well as on Bay St. Louis, two and a half years ago. But the arts community refused to let the lights dim, and today they're helping revive a town in one of the rare success stories of post-Katrina life on the Gulf Coast.
Across the region, the hurricane's imprint continues to be as somber as an Edvard Munch painting: damaged downtowns, destroyed neighborhoods, FEMA trailers serving – seemingly endlessly – as homes. But here in Bay St. Louis (pop. 8,000), arts mavens and tourists are returning, and homes and businesses are being rebuilt, helping to resurrect the economy and sharpen the community's identity as a cultural hub.
---
Follow Stories Like This
Get the Monitor stories you care about delivered to your inbox.