How one Southern church forges unity through voice
The centuries-old tradition of Sacred Harp, a form of choral singing in which anyone can participate, draws people to a spare church in rural Alabama once a year.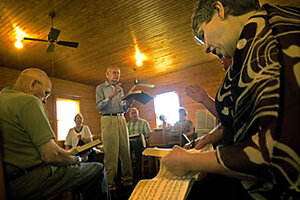 The road to Liberty Grove Primitive Baptist Church meanders through northern Alabama, a lazy, looping ribbon of smooth blacktop at times, a treacherous snake of faded, broken gray asphalt at others. It's a path not unlike that of faith. Not unlike that, at times, of life itself.
Voices rise and fall in the breeze, audible long before you see the simple wooden church resting beneath a canopy of hundred-year-old oaks. The doors and windows are open, and music pours out across the desolate landscape, winding through the trees and lifting through billowing white clouds to a heaven of clear blue sky.
The music is Sacred Harp, a nondenominational form of choral singing that encourages community participation. Despite suggestions that the tradition is dying, there are singings from Chicago to San Francisco, and even the United Kingdom, every week, some attracting as many as 1,000 participants.
Slick CDs are being produced, and professors from around the world are hunching over atlases and MapQuest directions, trying to find their way to churches like Liberty Grove, hoping to study a culture that has become synonymous with the rural South but began in the singing schools of colonial England.
Today, fans of the music face a steep challenge – how to bolster the momentum of Sacred Harp and continue to make an ancient folk tradition relevant in today's modern world.
---