'Swedish Seven' win hearts of Detroit's hockey faithful
Without them, some say, the Red Wings wouldn't now be contending for the Stanley Cup.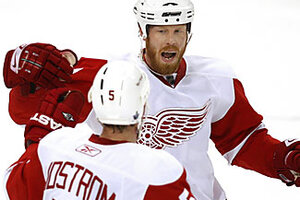 Frank Gunn/The Canadian Press/AP
Just outside Detroit, aka Hockeytown, is a little patch of the old country that Red Wings coach Mike Babcock markets as "Little Sweden" to potential recruits.
Using the Ikea-festooned expat community in the Detroit suburb of Novi as bait to lure Swedish players to Michigan has paid off for Babcock: This year's Stanley Cup pits Detroit's "Swedish Seven," including Swedish captain Nick Lidstrom, against the Pittsburgh Penguins, led by Canadian captain Sidney Crosby and stars Evgeni Malkin and Marian Hossa.
Win or lose, there's little doubt in Hockeytown that the Swedish quest to prove themselves on the world stage, a national stubbornness, and commitment to team play have made the Three Crowns a unique hockey breeding ground for the National Hockey League (NHL) – already the most international of US pro sports leagues.
---