A bid to boost ranks of minorities with PhDs
In its 14 years, The PhD Project has helped to triple minority presence on business school faculties.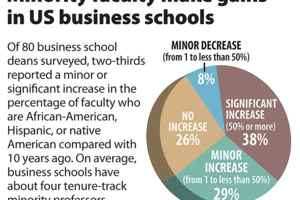 SOURCE: "Survey of Deans," July 2006, The PhD Project/Rich Clabaugh–STAFF
After Frank Igwe picked up his doctoral diploma at Penn State in May, he promptly handed it to his parents. He wants them to see it at home "and know that their son made a mark in this world, bringing honor to the family name."
There's one more "family" for Mr. Igwe to thank for supporting him through the crucible of graduate school: The PhD Project, a mentoring network for African-Americans, Hispanics, and native Americans on the path to becoming business professors.
Since its formation in 1994, The PhD Project has helped triple representation of these groups among the faculty of American business schools – from 294 to 903. Another 400 are working toward their doctorates.
That signals "tremendous growth," says Thomas Kochan, a professor at Massachusetts Institute of Technology's Sloan School of Management in Cambridge. "Too often, underrepresented minorities don't have access to those networks [in academia], so this provides more of a leveling effect."
Universities still have a long way to go to bring a wide range of backgrounds to business teaching and research, experts say. The three minority groups represent less than 4 percent of the roughly 26,000 business professors with PhDs.
---