An Olympic hopeful as driven in his business as on the mat
Wrestler T.C. Dantzler, owner of a million-dollar company, is competing this weekend for a berth on the 2008 US Olympic Team.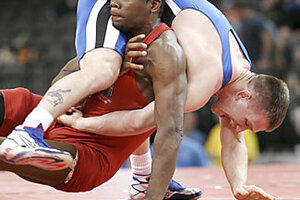 Jim Lee/AP/FILE
Even sitting in his swank office amid flat-screen monitors, there is a touch of Superman about T.C. Dantzler.
Perhaps it's because this mild-mannered business executive could at any moment put you in a headlock. Or that Mr. Dantzler's alter ego also spends his days subduing villains in a shiny, skin-tight suit.
Yet more impressive even than leaping tall buildings is Dantzler's daily to-do list: (1) Qualify for the Olympic Greco-Roman wrestling team. (2) Run a million-dollar company.
For most Olympic athletes, twice-a-day training sessions and week-long trips to Baku so sweaty Azerbaijanis can twist you like a balloon animal is quite enough to fill the monthly planner. But for Dantzler and a handful of other Olympic hopefuls, downtime is business time.
It means alarms set for 4:48 a.m., forbearing spouses worthy of medals themselves, and more energy than a room full of plutonium rods.
It's a striking contrast with many athletes, who – as Olympic sports move farther from their amateur roots – opt for a lifestyle that's as stress-free as possible in their downtime, relying increasingly on sponsors and coteries of handlers that include everything from masseuses to nutritionists. But for Olympian entrepreneurs, the urge to compete is greater than sports alone can satisfy.
"I have that drive in business, too," says Dantzler, whose firm, TC logiQ, does employee background checks for its clients. "I've always known that when I stop wrestling, I want my company to be one of the top businesses in the world."
---