G.I.s challenge injuries with new athletic efforts
Running, cycling, and swimming give them new strength and purpose.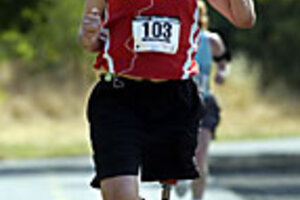 bart ah you/modesto bee/mct/newscom
Surviving the bomb blast under his Humvee was a hard-won fight for Andy Robinson. But two years later, filling the life he fought so hard to have was turning out to be another challenge.
"When I got hurt, three guys got killed," says Mr. Robinson, who was partially paralyzed in the June 2006 attack in western Iraq. He told himself, "You better shut up and better not complain.... No matter how bad the injury is, [you] got a second chance so enjoy it, live it."
Living, for Robinson, meant a long series of surgeries, physical therapy, and learning to use a wheelchair. It also meant deciding how to view his future. Was it over? Or just a beginning? A counterintelligence specialist used to high-intensity training and deployments, he desperately needed a mission.
"I've reached the end of the Internet," he'd periodically shout to his wife, Sara, through their Oceanside home as he tapped on a computer trying to pass the time. They were finally in a house, not a hospital room, and together for long stretches for the first time in their marriage of barely two years.
But as the months drifted by, the quarters began to feel a little too close. Just getting ready and out of the house took hours. His natural intensity and energy had nothing to pour itself into but frustration and tension.
"We had more arguments and tiffs because he had nothing to do," says Sara. "He needs a focus and a purpose and something to work on. He wants to help people."
Then Robinson came out to cheer for his marine buddy Greg Jones, called "Stitch," in a bike race in October 2007, and he was intrigued by the handcyclists zipping by. Stitch was already interested in helping injured athletes and he'd connected with Team Semper Fi, a group of injured marines who are endurance athletes, founded and funded by the nonprofit Injured Marine Semper Fi Fund.
---