Prison baseball team gives inmates a focus beyond their cells
The San Quentin Giants, one of the only prison teams in the nation to compete against outside clubs, play on a diamond surrounded by guard towers.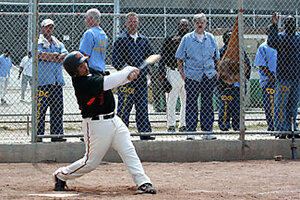 frank kosa
As a baseball manager, Kent Philpott has to navigate many of the usual challenges on the diamond: player egos, varied skills at the plate, and uneven levels of motivation. But he also confronts a few unusual problems. When he benches someone or cuts them from the team, it's likely to be an armed robber, drug dealer, or murderer.
Firm though he is with them, Mr. Philpott relies on skills from his primary vocation when managing on the field – being a pastor. What's more, he may be the only one in baseball to lean so heavily on a coach, Stan Damas, who confesses that he knows nothing about game. Mr. Damas's expertise lies in handling people. "I have 21 players, all of whom think they should be starting," says Philpott. "Guys can get upset with me. Stan makes things right."
Philpott is the manager of the San Quentin Giants, a team made up of inmates from one of the nation's most widely known maximum-security state prisons. While many penitentiaries around the country have organized baseball teams, San Quentin's is the oldest and one of the only ones that competes against outside ball clubs.
To prison officials, organized sports is a way to keep inmates occupied and perhaps teach a few lessons on getting along with others. In this age of punitive attitudes about crime, no one is calling it rehabilitation, exactly. Some conservatives and victims' rights groups, in fact, think that any kind of recreation for inmates – especially America's pastime – isn't appropriate for prisoners, especially those who committed a violent crime. But it helps prison authorities battle one of the biggest worries behind bars – idleness. "It keeps tensions down, increasing the safety and security of everyone, including employees," says Marie Griffin, a criminologist at Arizona State University in Tempe.
---