'Dukes of Hazzard' devotees gather to celebrate the hit 1980s TV show
At 'DukesFest,' hundreds display their General Lee cars, dress up as Boss Hogg and Enos, and tell tales of a simpler South.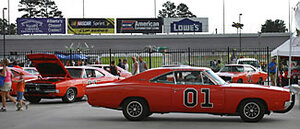 PATRIK JONSSON
Stuck in what he calls "the Northeast corridor," Billy Shaffer can't turn his back on the three generations of family who have lived in New Jersey. His life is, and will remain, in the North, he says. Yet his heart longs for the Southern red clay roads presided over by the General Lee.
Maybe Mr. Shaffer never would have known better unless he'd sat down on that Friday night in early 1979, when a car shot across the Georgia landscape, a Dixie horn sounded, and the world changed. Like so many devotees of the hit 1980s TV show, "The Dukes of Hazzard," Shaffer's interest only grew after the show went off the air in 1985, as its iconic pop elements lingered – not the least of which was a 1969 Dodge Charger named for the Confederacy's greatest general.
Last weekend, Shaffer, a county park ranger in coastal New Jersey, joined thousands of devotees at DukesFest 2008, a carnival-meets-carshow held at the Atlanta Motor Speedway here in Hampton. Hollywood stuntmen launched late-model cars off ramps and old-car buffs displayed their homebuilt General Lees – some of which cost $35,000 to create, but have made the owners mini-celebrities back home.
---