'Arc d'Atlanta' ... or a new bit of kitsch?
Some find the city's new classically designed monument beautiful; others say it reflects a cultural inferiority complex.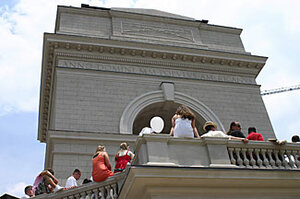 PATRIK JONSSON
With a 21-gun salute, a $20 million, 82-foot-tall Roman arch became Georgia's biggest roadside monument this weekend, supplanting Marietta's 77-foot-tall "Big Chicken."
The first classical monument built in the US since the Jefferson Memorial in 1936, the so-called Millennium Gate, dedicated to peace and justice, came a few years late and a bit scaled down, not to its intended resting place in Washington, D.C., but to the capital of the Southeast. Its architectural neighbors include an old steel mill smokestack, an Ikea box store, and cranes erecting modern lofts with art deco facades.
A design inspired by the Arch of Titus in Rome, the Atlanta arch is a giant double-take, a serious statement that risks, against the topsy-turvy backdrop of modern mass development, to become a legacy to 21st-century kitsch.
But for its creator, an urban revivalist named Rodney Cook Jr., the arch isn't just a nod to the influence of Rome, Egypt, and Greece on a modern democracy, but also a bold way marker for a sprawling Southern juggernaut in search of an international identity. It represents, too, an arduous journey for a band of classicists determined to bring not just classical thought, but architecture, back into the public square.
---