Washington 'power couple' takes on race
William and Janet Cohen want to use their experience as a mixed-race couple to start an open discussion on race in America.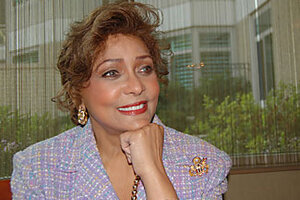 Rob Chaddock
Married in the US Capitol, William S. Cohen and Janet Langhart Cohen have all the trappings of a Washington Insider Power Couple.
A former Republican senator from Maine, he served as secretary of Defense in the Clinton administration and is chairman and CEO of the Cohen Group. A former model and television journalist, she is CEO of Langhart Communications.
But he is white and she is black, and what led them to convene a two-day conference on race and reconciliation in America, opening Thursday at the National Press Club in Washington, is a common experience as outsiders.
"I wanted to have this conversation [on racial reconciliation] practically my whole life," says Janet Cohen, citing an incident when she and her mother were denied service at a restaurant in her hometown of Indianapolis. She recalls her mother telling her, "Janet, you're a little colored girl and people are not going to like you because you're colored." The slights and barriers due to race became a constant in her life – not insurmountable, but ever present, she says.
---