Battle over Confederate flag hits highways
Huge displays along interstates raise old debates over the history of war and slavery.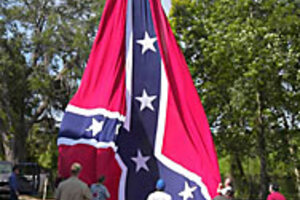 Courtesy of Don Geary
Chip Witte doesn't consider himself a Rebel. He doesn't hang Dixie battle flags in his living room, nor does he wear one on the back of his leather jacket.
Yet when the Tampa motorcycle mechanic saw the world's largest Confederate battle flag unfurl above the intersection of I-75 and I-4 in June, he felt a jolt of solidarity with the lost cause and lost rights that he says the battle flag represents. "I think it's great that they're allowed to fly it," says Mr. Witte. [Editor's note: The original version misidentified the highway intersection.]
Despite years of boycotts, schoolyard bans, and banishment from capitol domes, the Southern battle colors are flying, higher than ever.
Indeed, the Tampa Confederate Veterans Memorial and its 139-foot flagpole features one of at least four giant "soldier's flags" flying over bumper-to-bumper interstates in Florida and Alabama. With more planned in Tennessee, Georgia, Kentucky, and possibly South Carolina, the interstate show of force, experts say, highlights the potential backlash from banning nostalgic symbols from the public square.
Moreover, the giant flags are also the outward sign of a deeper struggle within the Sons of Confederate Veterans (SCV), a century-old organization historically more likely to hold battlefield reenactments than to stage political warfare.
---