Finally, a Philadelphia sports title
The Phillies' win may go beyond the city to benefit Major League Baseball more widely.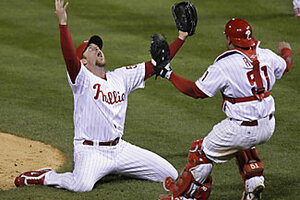 Julie Jacobson/AP
Philadelphia; and St. Petersburg, Fla.
Rocky Balboa, take a seat: There are new champs in Philly.
Philadelphia has finally done it – won a World Series. It's the first major sports title for the city in 25 years.
The Phillies took the championship four games to one on Wednesday night by beating the Tampa Bay Rays, 4-3. Now, the city, painting itself Phillies red, is getting ready to treat its wildly enthusiastic fans to a parade and a party.
Yet the win may go beyond the banks of the Delaware River to benefit Major League Baseball more widely. Some fans saw this World Series as one of the first emerging from the steroids era – a squeaky-clean "small ball" game featuring lanky young players playing for the love of the game, more than for the money. Some fans also saw this Fall Classic as lending support to a workable smaller-market model: Both the Rays of Tampa Bay, Fla., (a small-market team) and the Phillies (a mid-market one) have developed home-grown talent and benefited from a 12-year-old revenue-sharing agreement. It could all signal advances in curbing Major League Baseball's fiscal and athletic excesses.
---