A push to boost college graduation rates
Nearly half of students at four-year colleges don't finish after six years, a report finds.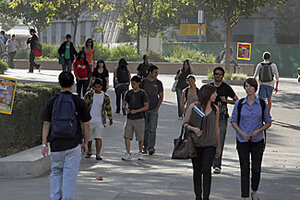 Tony Avelar/The Christian Science Monitor
When it comes to competing globally, the United States not only needs to get more students into college, but it also needs them to actually earn their diplomas. That's the conclusion of business leaders and policymakers concerned about the education level of younger generations who will replace 78 million baby boomers heading toward retirement.
Despite improvements since the early 1990s, the US ranks 15th of 29 developed nations in terms of degrees granted: For every 100 students enrolled, countries such as Switzerland, Japan, and Australia award 26 degrees, compared with the 18 in the US. In fact, nearly half of American students at four-year colleges don't finish within six years, according to a report card released Wednesday by a higher-education policy group.
"Historically, our strength has been access [to higher education] and our weakness has been completion," says Patrick Callan, president of the National Center for Public Policy and Higher Education in San Jose, Calif., which produces the report card every two years. "We've always said the reason we can't be expected to do so well on completion is because we're generous on access. But now, we see countries catching up to us and surpassing us on access and completion."
---