From our files: Sammy Baugh: In Passing
'Slingin' Sammy Baugh, who died yesterday, revolutionized the forward pass as a Hall of Fame quarterback for the Washington Redskins from 1937-1952.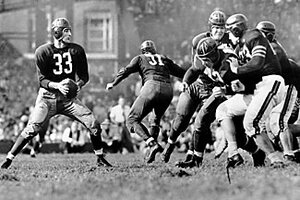 AP/File
From the October 14, 1948 issue of The Christian Science Monitor.
For years, forward passing was regarded as daring football. Fans usually liked passing because it was exciting to watch, and because danger rode with every attempt at it - danger of interception for the home team, and of completion for the opposition. Either way, passing was spectacular.
While the fans cheered it, however, fundamentalists insisted that it was not sound football. They regarded it as desparation play. Victories won on passes were sometimes termed "fluke" wins. Now the picture is different. The fellow who changed it is a drawling Texan, who proved that passing could be a science instead of a gamble.
Sammy Baugh did not aspire to football greatness as a boy. He wanted to be a baseball player. Just as the baseball major leagues are dotted with frustrated footballers, the football big time is sprinkled with fellows who wanted to play baseball. Sammy probably is the outstanding example.
When he was growing up on a Texas farm, heliked the sandlot game. Texas had good baseball weather, and Sam was determined to make the most of it. Football was not just something to try for the sake of variety, fun to dabble in but lacking in the solid virtues of baseball.
When he was of high school age, Sam retained much the same opinion of the two sports. At this time, the Baughs moved to Sweetwater, Texas, where Sammy went to high school. Tall and slim, Sam did not look much like a football player, but he went out for the team, anyway. He liked sports, and he watend to keep his hand in. If he had not subsequently achieved fame, it is unlikely that anyone who saw Sammy in high school football uniform would remember it now. He was unimpressive. At the time, he apparent lack of outstanding ability did not worry the young fellow, because everyone agreed he was a fine infielder on the high school baseball team.
---