'Historic' building versus religious rights
A Christian Science congregation in Washington wants to build a new structure, but preservationists are resisting.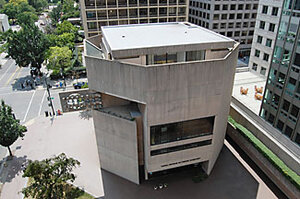 Robert Frazier/The Christian Science Monitor
In Washington, D.C., Third Church of Christ, Scientist is the lead actor in a saga playing out in cities across the US.
Local communities seeking to preserve historic buildings are contending with religious congregations that, for financial or other reasons, want to modify or tear down their buildings. The clashes have intensified since the 1990s with the passage of federal laws aimed at protecting religious institutions from land-use restrictions that interfere excessively with their "free exercise" of religion.
The Christian Science congregation, located just blocks from the White House in a unique building of modernist architecture, wants to demolish the structure and build a new church that is more energy-efficient and suitable for its needs.
"We want a church that is welcoming and fits the scale of the community, one that does not give the secretive, enclosed impression that this Brutalist building does," says J. Darrow Kirkpatrick, the church's coordinator for redevelopment.
But the District of Columbia's historic preservation board designated the church a historic landmark in December 2007 specifically because it is a strong example of Brutalism, an architectural style involving raw concrete and monolithic forms. In July 2008, the board turned down the church's request to raze the building.
In response, Third Church has filed a lawsuit in federal court challenging the landmark restriction, alleging violation of two religious freedom laws and the Free Exercise clause of the First Amendment.
Under the Religious Land Use and Institutionalized Persons Act of 2000 (RLUIPA), for instance, when a religious group shows that a ruling would create "a substantial burden," officials must show they have a "compelling interest" for doing so. Third Church says that no compelling interest has been demonstrated.
---