House stimulus bill widens healthcare
Newly jobless would get Medicaid or other subsidies to help pay medical costs.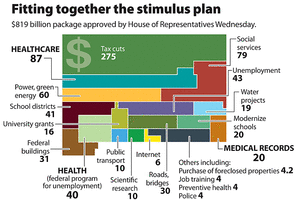 AFP
For the first time ever, newly unemployed workers and their families will be eligible for Medicaid coverage and healthcare subsidies if the economic stimulus package passed by the House Wednesday becomes the law of the land.
Those are just two of the healthcare initiatives included in the omnibus $819 billion stimulus bill. They're aimed at pumping cash into the ailing economy at the same time they shore up the nation's unravelling healthcare system.
The stimulus package, which still must be approved by the Senate, allots $117 billion for healthcare spending. It includes:
•$87 billion dollars to help states pay the costs of Medicaid, which provides medical care for the poor and disabled.
•$11 billion to extend Medicaid benefits to the newly uninsured.
•$29 billion to help the unemployed pay for private insurance.
•$20 billion to implement new healthcare technologies, such as electronic medical records, aimed at improving care and cutting costs.
The provisions that would make Medicaid available to the uninsured and the subsidies for private healthcare are being described as temporary. But some healthcare reform advocates hope they will serve as building blocks to bring about a reform of the healthcare system. Opponents worry they could be the start of the nationalization of healthcare.
But even some conservative analysts, who oppose nationalized healthcare, believe that preventing the newly unemployed from also joining the ranks of the 47 million Americans without health insurance trumps the larger ideological battle over healthcare reform – at least for now.
"It is a sensible ... temporary solution to what we hope will be a temporary problem," says Gail Wilensky, a senior fellow at Project Hope, an international health education foundation. "We don't have the luxury or time right now to flesh out how we want to redo … our healthcare system – right now we need to do things that will shore up populations that are being hurt...."
---