'Steel Curtain II' vs. a big offense: a contest of styles
Super Bowl XLIII will put on display how football is being redefined in front of fans' eyes.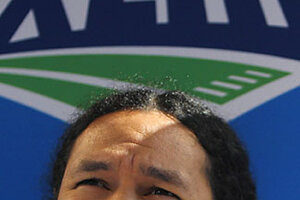 Brian Snyder/Reuters
Once upon a time, in the lean war years when bombs fell on London and Berlin, two American originals – the Cardinals and Steelers – joined forces.
They were the Card-Pitts. They were so bad the rest of the league called them "The Carpets."
This Sunday, that ill-fated experiment comes full circle, pitting two teams with an interconnected past against each other in Super Bowl XLIII at Tampa's Raymond James Stadium.
These days, the franchises have opposing game-time philosophies. The Cards, their offense led by former grocery-store stock boy Kurt Warner, face the Steel Curtain II defense and its wild-haired Greek Orthodox Samoan safety, Troy Polamalu.
The game will not only arc across history and put into crushing motion a mix of regular guys-turned-gridiron mavericks. It will also delve into the heart of a game that is being redefined in front of fans' eyes.
The adage that defense wins championships dies hard, but today's champions are more likely to rely on a balanced game plan built as much on offensive grit as defensive formations.
"The main story line is the dynamic offense of the Cardinals versus the defense of the Steelers and how these teams have built their squads," says Jeffrey Ohlmann, a University of Iowa researcher who does quantitative analysis of NFL teams.
---