For island players, this is the 'Poly Bowl'
Six players in Super Bowl XLIII have Polynesian heritage – a record number for the big game.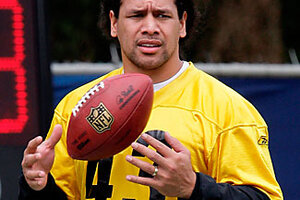 Gene J. Puskar/AP
Pittsburgh Steelers safety Troy Polamalu thought of himself as just an ordinary southern California kid until he moved to Oregon as an 8-year-old to live with his uncle Salu.
Salu is Samoan through and through. He helped the boy connect with his island heritage, Polamalu now says, teaching him a "fire knife dance" and inspiring intricate Samoan wood carvings that he gave as presents to friends in high school.
The soft-spoken Polamalu credits his uncle's focus on their island roots for helping him get his team to Super Bowl XLIII. He caught the second-most interceptions in the league this year.
Polamalu is one of six players in Sunday's game whose heritage stretches deep into the South Pacific's Polynesian culture. It's a record number that marks the rapid ascension of the Pacific Rim into the sport and the deepening influence of island athletes on America's biggest sporting stage.
---