Can A-Rod's admission spur baseball's cleanup?
In what could be a sign of things to come, the minor leagues have developed a stringent drug-testing program.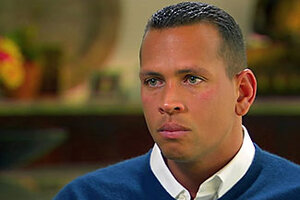 ESPN/AP
Superstar Alex Rodriguez's admission that he used steroids earlier this decade probably won't be the only blow for Major League Baseball this year.
A grand jury is considering whether Roger Clemens lied to Congress about using performance-enhancing substances. Barry Bonds is facing perjury charges for his grand jury testimony about drug use. And on Wednesday, Miguel Tejada is expected to plead guilty to lying to Congress about his knowledge of other players' steroid use.
Since 2003, however, Major League Baseball has taken steps to clean up its act – and Mr. Rodriguez's admission could be a catalyst for doing even more. Now, the major leagues have mandatory, random drug testing and penalties. And in what could be a sign of things to come, the minor leagues have developed an even more rigorous testing program.
Don Catlin, who helped establish the current minor league program, sees hope that its elements could be transferred to the major leagues. "They're much less resistant than ever before," says Dr. Catlin, one of the world's top authorities on sports doping.
Still, revelations about steroids in baseball use are not likely to end anytime soon. As part of the Bonds investigation, the government seized urine samples from 2003 that came up positive for illicit drugs involving 104 baseball players. Rodriguez so far is the only one publicly identified.
---