'Peanut proud' farm town struggles with tainted image
Blakely, Ga., was a quiet community until the salmonella scare hit home.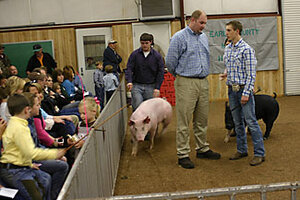 Patrik Jonsson/The Christian Science Monitor
Dressed in spotless Wranglers, pint-sized cowboy boots, and pearl-buttoned farm shirts, the boys and girls of Blakely, Ga., could hardly look happier as they brush down their hogs in hopes of a blue ribbon.
But a behind-the-scenes glimpse at the Early County Market Hog Show shows all is not well here.
Blakely is America's peanut capital, the seat of the biggest peanut-growing county in the United States and "peanut proud," as the motto goes. It's also home to the now-infamous Peanut Corp. of America plant that allegedly sold salmonella-laced products and launched a deadly food-safety scandal.
Cafe owner Fred Large say it's unfair that a rogue corporate operator who bought much of his peanut stock from China and Argentina should have "drug this town through the mud."
As he helps his son Caleb prep a hefty sow for the show, middle school teacher Harriss Brown worries that his community – which should be exemplified by the innocent toil of young farmers, he says – is getting a reputation as "a town full of killers."
But it's clear amid the hushed barn whispers that the scandal has also forced a communitywide reevaluation of a go-along-to-get-along working culture that pervaded the low-slung Peanut Corp. of America (PCA) plant here. The result now threatens not only a town's sense of identity, but the future of the humble peanut itself.
Long-term damage
---