US Muslims: young, diverse, striving
A new portrait of Muslim Americans depicts a group that has achieved a great deal, yet struggles for a sense of belonging.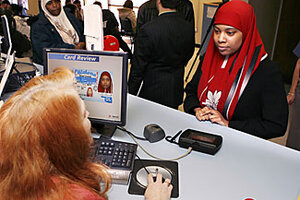 Paul Hellstern/AP/FILE
A "national portrait" of Muslim Americans, released Monday by Gallup, depicts the youngest and most racially diverse religious community in the country as striving for a secure place in American society and an active role in public life.
The report describes a group that has achieved successes and shares much in common with other Americans, yet struggles for a sense of belonging in a country where some citizens harbor post-9/11 suspicions about the Islamic faith.
Drawing on data from three distinct Gallup surveys, the report compares Muslim Americans with other religious groups and the general US population, as well as with Muslims in other countries.
Muslim Americans, for instance, are among the most highly educated religious groups in the US, second to Jews. In a remarkable finding, 43 percent of Muslim-American women hold a college or postgraduate degree, compared with 29 percent of US women overall. They are as likely as Muslim men to hold professional jobs. The group shows strong employment rates, including 30 percent in professional work and 25 percent self-employed.
Muslim Americans volunteer in their communities to the same degree as other US citizens, and they give slightly more to charity. While 80 percent consider religion important to them, weekly worship attendance (41 percent) is typical of other religious groups. Their political participation has risen rapidly in recent years, though it still lags behind that of others.
At the same time, Muslims are less likely than others to feel that they are "thriving." They express less satisfaction with community life and share with Jews a greater sense of worry and stress than other Americans.
"The poll shows that the past eight years have taken their toll on Muslim Americans, particularly youths," says Dalia Mogahed, executive director of Gallup's Center for Muslim Studies.
The Muslim community includes by far the highest proportion of young adults (18 to 29 years), with 36 percent in that category, compared with 9 percent of Protestants, 17 percent of Catholics, 23 percent of Mormons, 16 percent of Jews, and 18 percent of the US population.
---