Survey sees a drift away from religion in America
The percentage of Christians in the US declined, while that of people with 'no religion' almost doubled.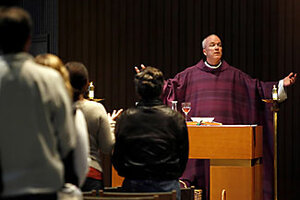 Tony Avelar/The Christian Science Monitor
Christianity's hold on many Americans is slipping, losing out not to other faiths but to "no faith."
Today, 76 percent of the US population call themselves Christians, compared with 86 percent in 1990, according to the third American Religious Self-Identification Survey (ARIS), released Monday by Trinity College in Hartford, Conn. Among Christians, the survey confirms that many are shedding denominational loyalties for a more generic Christian allegiance.
One in every 5 US adults chose not to identify a religious identity: 15 percent chose "no religion" and the other 5 percent declined to name one.
In the traditional Roman Catholic stronghold of New England, for instance, the number of Catholic adherents fell by 1 million between 1990 and 2008, with most of those moving to "no religion." Catholics dropped from 50 percent to 36 percent of the region's population. New York state lost 800,000 Catholics.
"The decline of Catholicism in the Northeast is nothing short of stunning," says Barry Kosmin, a principal investigator for the ARIS surveys of 1990, 2001, and 2008. "There is a correlation between the decline of Catholic identity and the rise of 'the nones,' " as the survey dubs the "no religion" group.
---