Obama weighs patient rights vs. doctor's conscience
The administration will soon decide whether to reverse Bush's 'conscience rule.'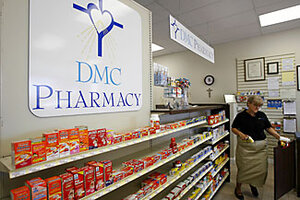 Jacquelyn Martin/AP
The Obama administration will soon face a decision, bound to be controversial, on how to balance two important principles: freedom of conscience for healthcare workers versus unfettered access to healthcare, especially reproductive services.
Should physicians, for instance, be able to decline to provide birth control services, without referring patients to other providers? Can an emergency-room doctor who believes that emergency contraception is morally wrong refuse to tell a rape victim that it is available?
In its 11th hour, the Bush administration last December issued a "conscience rule" to protect healthcare providers who decline to participate in services they find morally objectionable, such as abortion. That regulation would cut off federal funding to state and local governments, hospitals, clinics, and other entities that fail to accommodate workers' beliefs.
The Obama administration announced its intent to rescind the rule, but it is seeking public comment by April 9 before making a final decision. President Obama has pledged to seek common ground on contentious "life" issues.
Several federal laws have been passed since the 1970s to protect conscientious objection in healthcare, but women's health advocates and other groups say the new rule goes beyond the laws in ways that could limit access to services and endanger women's health. The attorneys general of seven states also filed suit to block its implementation.
Religious conservatives, in turn, insist the rule is essential because healthcare workers, they say, are increasingly pressured, penalized, or fired for exercising their conscience right.
The Christian Medical and Dental Associations (CMDA) highlights examples on their website, including doctors who say they were forced out or had to resign from jobs because they refused to give contraceptives to unmarried women, or to refer patients to others for abortions.
---