Pill wars: debate heats up over 'brain booster' drugs.
Adults are taking stimulants like Ritalin and Adderall, normally used to treat serious medical conditions, to boost their concentration and job performance. Critics ask: Is it making Americans too dependent on their medicine cabinets?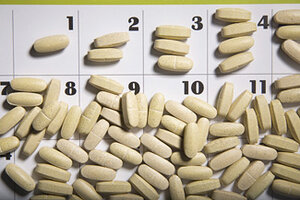 Newscom
It's a play right out of the Twitter era and the family medicine cabinet. "Distracted," at an off-Broadway theater in New York, examines the ever-shortening attention span of modern life – including the moral conundrum of whether a restive 9-year-old should be given pills to alter his mood.
At one point, an actor breaks from character to address the audience directly and advocate the use of Ritalin and Adderall, two prescription stimulants, which, he says, helped him learn his lines. [Editor's note: The
original version wrongly called Ritalin and Adderall over-the-counter drugs.]
The aside encapsulates a growing debate in scientific circles and living rooms across America: Should adults be using so-called "brain-boosting" drugs – normally intended to treat serious medical conditions – to improve concentration and performance?
College students, of course, have been using stimulants for years: They take such things as modafinil, Adderall, and Ritalin (euphemistically known on campuses as "vitamin R") to enhance their memories for exams or to stay up all night and press out a term paper. By one estimate, at least 10 percent of American college students use prescription drugs as study aids.
Now the general adult population is turning to the pills, too – often illegally – to boost productivity and enhance their mental prowess on the job. Some experts laud the development: They think it's time to consider making the stimulants legal for brain-boosting functions.
---