Abortion doctor had been a target before
As one of the few to perform late-term abortions, he had become a national figure.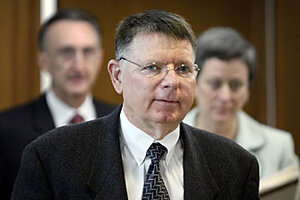 Mike Hutmacher/ The Wichita Eagle/ AP/ File
The abortion doctor shot and killed while ushering in his church Sunday was among the most controversial providers of abortions in the United States.
George Tiller's clinic in Wichita, Kan., is one of only three in the nation that performs late-term abortions, according to an AP tally. He had already been shot – once in each arm – in 1993, and his clinic was bombed in 1985.
He often traveled with a bodyguard, according to several reports.
Both abortion rights and anti-abortion activists condemned the killing. But it comes as the debate over abortion has been reemerging on a national level. It was at the center of the backlash to President Obama's address at Notre Dame University on May 17. It has also come up as a potential cause of questioning later this summer during hearings to confirm Sonia Sotomayor, Mr. Obama's Supreme Court nominee.
In a statement released Sunday, Obama said: "However profound our differences as Americans over difficult issues such as abortion, they cannot be resolved by heinous acts of violence."
Tiller was killed in the foyer of the Reformation Lutheran Church in Wichita just after 10 a.m., police say.
A medical colleague in Wichita told the Los Angeles Times that she thought the crime might have been a reaction to a recent legal victory for Tiller. He was accused of performing late-term abortions without adequate oversight. The jury exonerated him, and local anti-abortion critics might have felt he "got off the hook," said Ann Kristin Niehaus.
---