Churches without the church
Foreclosures have forced some churches to meet in homes or cafes. Now, others are joining in – willingly.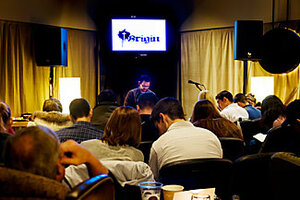 photo courtesy of mark south
When Barry Diamond first told fellow ministers that his Las Vegas church was preparing to leave its 12,000-square-foot rental space in April and worship instead in members' homes, they warned him he was "committing ministry suicide."
But Pastor Diamond and The Village, as his nondenominational church is known, have survived. Fifteen homes now hold intimate services twice a month. On other Sundays, they dip into funds previously earmarked for rent and use them for special events and outreach, such as a May block party for local African refugees. Now other church leaders want to know how they might follow suit.
"I don't know if we uncovered a model that people are longing for or what," Diamond says. "But I have six appointments over the next three or four weeks with [church leaders] who are flying into Las Vegas just to meet and talk about it."
Leaving a building with no plans for a new one used to be a hallmark of a failed congregation. In this recession, however, a growing number of hard-hit churches are struggling to pay rents and mortgages. That has some thinking about the formerly unthinkable: being a church without a building – and they are getting encouragement from building-free congregations who wouldn't have it any other way.
---