Why GED classes are full, now
Poor job market motivates many to earn their high school equivalency certificate.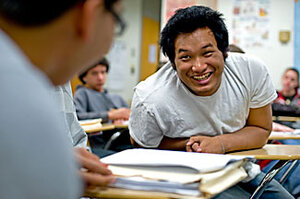 Ann Hermes/The Christian Science Monitor
The students in this small classroom dropped out of high school after hanging with the wrong crowd or struggling to focus. Many simply failed to see the value of an education.
Now, these teens with responsibilities beyond their years gather five mornings a week as they prepare to take the GED (General Educational Development) tests, which most colleges and employers accept in place of a high school diploma.
More 16- to 21-year-olds are finding their way to this classroom – home base for the Out of School Youth Development Center at Middlesex Community College in Lowell, Mass. And throughout the United States, particularly in areas hit hard by layoffs, GED classes for all ages are filling up fast.
The down economy is a key reason for the surge. The national unemployment rate for 16- to 19-year-olds in April was 21.5 percent, up from 15 percent a year before, according to the US Bureau of Labor Statistics.
As teens face competition from adults for even basic grocery-store jobs, it's easier for them to see how essential a high school credential is to their future employment.
"Before I went into the GED program, I was looking for a job. And wherever I went, there were no openings," says Monica Fontanez, a student at the Lowell center who dropped out of high school twice and has worked on and off in low-paying jobs. She hopes to finish the tests before her baby arrives. "I wanted to better my life not only for me but for my child," she says.
---