'Barrel monster': Is it a crime, or is it art?
Even the owner of the purloined orange traffic barrels urges the D.A. not to prosecute.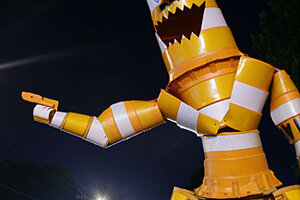 Courtesy of Joseph Carnevale/AP
Only months after the arrest of Shepard Fairey, the Obama "Hope" poster artist who's battling the Associated Press over copyright issues, another guerilla artist is facing charges – this time for creating a hitchhiking "monster" out of stolen orange traffic barrels.
A worldwide outpouring of support for the soft-spoken and billy-goateed Joe Carnevale – whose very last name hints at anti-authoritarian whimsy – has put pressure on a district attorney in Raleigh, N.C. to drop larceny charges.
With more than 3,000 people from as far away as Korea and Brazil joining a Facebook group calling for charges to be thrown out, Mr. Carnevale's monster stunt touches on the growing legitimacy and celebrity of guerrilla artists. In many ways, sympathy for Carnevale stems from a cultural resistance to authority and the celebration of harmless fun in the face of overly serious prosecutors.
---