Who does the law favor in Jackson children custody case?
Parental rights count for much, but courts today are giving more credence to claims from a child's primary caregiver.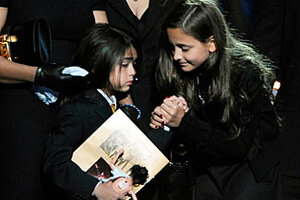 Gabriel Bouys/Reuters/File
When retiree Virgil Meyers picked up the phone at 3:30 in the morning, he was not prepared to hear that his youngest daughter had died in her sleep. The shock numbed him but almost at the same time, Mr. Meyers says, "I knew what needed to be done."
About four hours later, he and his wife returned to their Sacramento, Calif., home with their three grandchildren, ages 16, 14 and 12, in tow, determined to seek legal custody from their jailed father.
Katherine Jackson, mother of superstar Michael Jackson, similarly finds herself in the sudden position of tussling for legal guardianship of her late son's three children. But if Debbie Rowe, mother of two of Michael Jackson's children, decides to seek custody at a twice-rescheduled court hearing set for July 20, what are the chances that a 79-year-old grandmother will win?
Not as slim as might have been the case in the past, say family law experts.
"The biological parent doesn't automatically have a right to custody" in California, says attorney Kathleen Kelly, who helps low- and fixed-income grandparents through the Senior Legal Hotline, the state's largest legal-aid service for the elderly. "But," she adds, "just because Michael Jackson put it in his will doesn't mean Katherine Jackson gets to be their guardian, either."
Grandparents as caregivers
---