In Yankee sweep of Sox, big-money buys made the difference
The series was a validation of the $423 million that the Yankee owner spent in the offseason.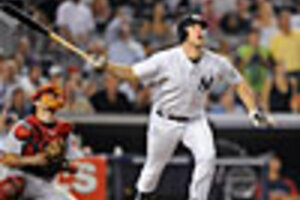 Ray Stubblebine/Reuters
The New York Yankees' four-game sweep of the Boston Red Sox was far more than a humiliation of their closest and most bitter rivals. It was an emphatic statement that Steinbrenner-ball still has a place in the modern game.
Since the Yankees last won a World Series in 2000, they have been decidedly out of fashion. Baseball has watched – sometimes with smug satisfaction – as the best teams that owner George Steinbrenner's millions could buy stumbled season after season.
This weekend, the Yankees laid down a marker: no more.
In truth, the Yankees are a different team from the one that has attempted to buy the World Series for much of the past decade. For the first time since those dynasty teams of the 1990s, the Yankees have a strong core of talent that was not purchased, but grown.
This has been the lesson of the post-Yankee era. Last season, the Tampa Bay Rays made it to the World Series with a team that cost less than an empty Coke can. Even the Red Sox, often spendthrifts in their own right, went about things the "right way."
Who knew that Jacoby Ellsbury was a centerfielder and not a designer shoe brand before the 2007 playoffs? He emerged from anonymity in the Red Sox farm system to stardom in the World Series. Others preceded him: Dustin Pedroia, Jonathan Papelbon, Jon Lester, Kevin Youkilis – all All-Stars, all young and home grown.
---