Rise of the guerrilla drive-in
Mobile, open-air movie theaters pop up across the country.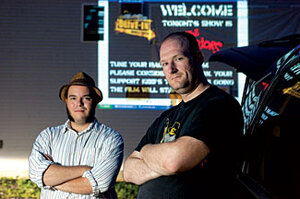 Joanne Ciccarello/Staff
On a July evening, Larry Clow and Bryan White hang two white dropcloths from the back of a gas station in Dover, N.H., to screen the 1979 flick, "The Warriors." They prep the projector and switch on an FM transmitter as 10 cars pull into a gravel parking lot to enjoy the show. It's not unlike the first drive-in movie theater experience.
In 1933, Richard Hollingshead Jr. projected home movies onto a screen hanging between two trees in his backyard in Camden, N.J.
Originally, it was a marketing idea he dreamed up to get people to purchase oil and other products from his family's gas station. Seventy-six years later, Mr. Hollingshead's invention is struggling to survive.
In their 1950s heyday, drive-in movie theaters around the nation reached 5,000. Today, there are 383, according to the United Drive-In Theatre Owners Association.
But avid movie-lovers and those who have fond memories of watching movies under the stars are trying to bring back the essence of the drive-in by doing it themselves. They're lugging projectors, FM transmitters, and even snacks in the back of their cars and screening movies at locations as diverse as the side of a Cineplex and a grain silo in the middle of a field. Call it the guerrilla drive-in. Across the United States, people are hosting screenings of cult classics and mainstream movies.
In West Chester, Pa., John Young invites people to secret screenings by preparing a scavenger hunt. As the founder of the West Chester Guerilla Drive-In, he says the only way people can find the location of the movie is by hunting down the MacGuffin – an AM transmitter broadcasting a secret code – hidden somewhere in the middle of town. His movie events usually require a bit of hiking or a sense of adventure. Think watching the 1980s horror flick "The Thing" in January snow or sitting on the top of a parking garage overlooking a city's clock tower while watching "Back to the Future." Since 2004, Mr. Young has been screening all his movies on a 16-millimeter projector housed in the sidecar of his 1977 BMW motorcycle.
In Oklahoma City, Aaron Gibson has been showing fan favorites such as "The Big Lebowski" and "Raising Arizona" on the side of a concrete warehouse adjacent to a rock climbing gym he co-owns. He founded "The Renegade Drive-In" in 2007 and before each screening shows old commercials and drive-in movie theater clips from the past.
---