A showcase for senior athletes
The national games offer more than 800 summer-sports events. The competition is keen – but the broader focus remains on healthy lifestyles.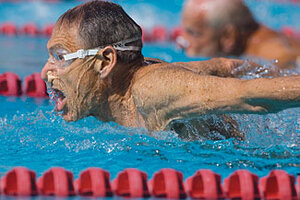 katie leighton/brooks institute
It's summer in California and the athletic facilities of Stanford University are abuzz with tanned, muscular men and women. But these aren't college athletes: August means it's time for the National Senior Games, the largest multisport event in the world for people 50 and over.
The games, which began Aug. 1 and run for two weeks, are made up of more than 800 events held at athletic facilities in Palo Alto, San Francisco, Sunnyvale, and San Jose. Sports include archery, badminton, racquetball, tennis, swimming, track and field, and volleyball.
"We provide a true championship in each of the sports that we offer," says Phil Godfrey, president and CEO of the National Senior Games Association.
The games are held every other summer, and this year about 10,000 athletes and 25,000 family members and friends are expected to attend.
The National Senior Games Association was founded in St. Louis in 1985. Two years later, the first event attracted about 2,500 athletes from all over the United States to compete in 15 sports.
"It was a big hit," Mr. Godfrey says.
---