If Jackson's death was homicide, where will fault lie?
Revelations that the entertainer died from a lethal dose of propofol do not bode well for Dr. Conrad Murray.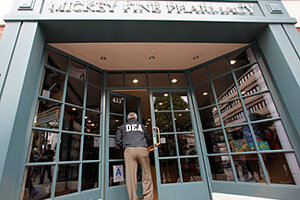 Damian Dovarganes/AP
Monday's revelations that Michael Jackson's death has been ruled a homicide and that he died from a lethal dose of propofol, a powerful anesthetic, spell trouble for his personal physician, Conrad Murray.
While Dr. Conrad has not been charged with any crime, he has been the subject of an investigation into Mr. Jackson's June 25 death.
A search warrant unsealed Monday in Houston, where Murray has an office and storage facility, revealed that the Los Angeles coroner's office believes Jackson died from the propofol, a drug administered intravenously that is seldom used outside hospitals. News that the King of Pop's death has been classified as a homicide was reported by the Associated Press, citing an unnamed law-enforcement official.
While the July 23 court document confirms what had been suspected for weeks – that propofol was the cause of death – it reveals new and perhaps damaging details into Murray's treatment of Jackson.
Murray told investigators, according to the search warrant, that he gave Jackson 50-milligram doses of propofol over six weeks to treat insomnia. When Murray became concerned that Jackson was addicted to the anesthetic, he reduced the dose to 25 milligrams shortly before Jackson's death but gave him other sedatives, as well, the document stated.
That could have created a lethal cocktail, says one expert. A poison control expert told the AP that: "No one will treat an insomniac like this."
It's unusual but not unheard of for physicians to be charged with manslaughter after these sorts of overdose cases, experts say, and Murray has been the primary subject in the Jackson probe. His offices have been searched several times.
---