A new fitness craze – Hula Hooping?
What used to be child's play is now a 21st-century form of exercise. San Francisco is a leader in hooping.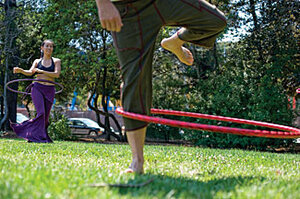 Ann Hermes/The Christian Science Monitor
It's a common sight in San Francisco – the green grass of a neighborhood park is accented by brightly colored hoops twirling at improbable angles around people grooving stylishly to dance music under the afternoon sun.
These are the Bay Area Hoopers, who meet every Sunday afternoon in parks around the city to practice their moves, holding the hoops aloft, then spinning them around their midsections, arms, shoulders, and legs.
For Philo Hagen, cofounder of the Bay Area Hoopers and editor of Hooping.org, the hoop is a way to shift one's attention from the head to the rest of the body. He says hooping is fun, childlike, and meditative, all of which make it tremendously good for the spirit.
"It's hard to get caught up in anything too seriously when you're hooping, and it's pretty guaranteed to put a smile on your face," Mr. Hagen says.
Most commonly known as an outmoded childhood toy, the Hula Hoop has gone from being a 1950s fad to 21st-century fitness trend. Outdoor hooping groups have emerged across the country, and structured indoor classes are increasingly offered at fitness centers.
But Hula Hooping, or hooping, for those using larger, often homemade hoops rather than those patented by Wham-O, is to many enthusiasts more than just a fun form of exercise. Participants talk of improved self-esteem, revived social lives, and even lighter spirits as they learn to take basic hoop-swirling to the next level.
---