Schools can do better with less money
Budget cuts and demands for improved student achievement test public-school administrators more than ever – but, undaunted, some scrappy innovators are passing that test with an 'A.'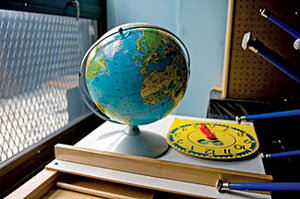 Ann Hermes/ The Christian Science Monitor
When Alberto Carvalho took charge of Miami-Dade County Public Schools last September, his first goal was to scour the district's nearly $5.5 billion budget to find money for teacher raises, which had been on hold because of state funding cuts.
He brought together a budget review team – including some outside experts – for a series of weekend number-crunching meetings fueled with buy-your-own-pizza lunches. They were able to cobble together the needed $45 million – in part by cutting overtime and changing food service delivery.
The superintendent recalls feeling "euphoric." But he didn't stop there. Maybe there were more savings to be had if they dug even deeper, he reasoned, so the search continued, line by line.
The euphoria was short-lived: The leader of the 340,000-­student district, the nation's fourth largest, discovered he was on the precipice of a financial crisis that previous budget scenarios hadn't projected. Healthcare and other costs had been underestimated, revenues overestimated. It added up to $158 million of imminent deficits. And more state cuts were on the horizon. Raises would have to wait again.
Educators across the country find themselves staring over the edge of some steep financial cliffs these days. As never before, they're squeezed between the twin pressures of budget cuts and calls for improved student achievement. The demand is to do more with less, and it's a daunting one.
But even in the darkest shadows of the recession, there are many – scrimpers, innovators, or just plain optimists – who are finding ways to do exactly that.
Mr. Carvalho saw the Miami-Dade crisis as an opportunity for a "budget transformation ... that would increase efficiency and force us to invest more in our core function."
His approach, colleagues say, boils down to a keen sense of frugality and common sense.
The plan he and his team came up with last fall redeployed administrators to classrooms, whittled down central-office expenses dramatically, and protected teachers' jobs.
---