Charter school pays big salaries, asks a lot in return
For six-figure salary, teachers will work long days and assume administrative roles, too, at The Equity Project in New York City.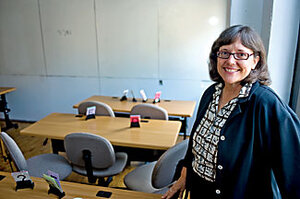 Ann Hermes/The Christian Science Monitor
To get more bang for limited school bucks, pay amazing teachers a six-figure salary. That's one of the radical ideas behind The Equity Project Charter School, opening in Sep­­tember in New York.
"Teachers are the key lever to a great education for kids ... so every dollar spent on a teacher is more valuable than a dollar spent on a variety of other education reforms," says founder and principal Zeke Vanderhoek.
Educators and policymakers nationwide will watch the experiment closely as they debate compensation reform and other proposals for attracting and retaining quality teachers.
Mr. Vanderhoek will pay himself $90,000, while the eight teachers he recently hired will earn a base salary of $125,000. In a nationwide talent search, he winnowed hundreds of applications and visited top candidates' classrooms to see the magic for himself – how these teachers engage their students in special ways that can't be summed up on a résumé.
They'll teach 120 fifth-graders this year, many of them coming in with low academic scores or hailing from the largely low-income, Hispanic Washington Heights neighborhood. The school will gradually expand to eighth grade. On top of core academic subjects, all students will participate in Latin, music, and physical education classes.
In addition to the rigorous standards for test scores, attendance, and parent satisfaction by which all New York charter schools are measured, The Equity Project has set its own goals. It expects students to show progress in writing, for instance, by adding a sample to a portfolio every two weeks from each subject area. And within four years, they should be able to perform competently in a musical ensemble.
In exchange for salaries that ring in at more than twice the national average, teachers will work from 8 a.m. to 6 p.m. and spend most of the summer on professional development. They'll each take on an administrative role – overseeing everything from assessments to technology – so the school will save money typically spent on support staff. They'll teach about 30 students per class, sub for one another, and conduct their own cross-classroom observations and professional development, rather than paying for outside help.
---