Songwriters sue, saying: You can't use 'Redneck Yacht Club'
During tough economic times, Nashville songwriters push harder to protect witty lyrics.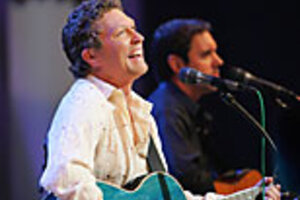 John Russell / AP/ File
Who can forget the Redneck Yacht Club?
The 2005 hit by country crooner Craig Morgan, written by Nashville lyricists Thom Shepherd and Steve Williams, conjured up a summer day of Dixie bliss, with Bayliners and party barges "strung together like a floating trailer park."
The image was priceless, and the single did pretty well, too, peaking at No. 2 on the country charts.
But in an industry desperately looking for fresh revenues, protecting phrases that evoke an idea or milieu is becoming ever more crucial as total country CD sales slid by 23 million units in the past year alone.
Messrs. Shepherd and Williams filed suit in US District Court in Nashville last week against a Fort Myers, Fla., off-road recreational park that purloined the name. Last month, the songwriters also sued a Colorado T-shirt maker for selling "Redneck Yacht Club" shirts that, they claim, impinge on merchandise sold on the official redneckyachtclub.com website.
"This is a [case] of interest," says intellectual-property attorney Kevin Parks, who specializes in the music industry at Leydig, Voit & Mayer in Chicago.
---