On the eighth anniversary of 9/11, New York remembers
The terrorist attack on the World Trade Center towers changed the city profoundly. But for many New Yorkers, life has returned to normal.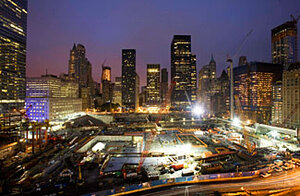 Mark Lennihan/AP
As it has for the last seven years, New York remembers the 2,993 people killed in the terror attacks of 9/11 2001.
First there is a moment of silence at 8:46, the time when the first jet slammed into the North Tower. Then, church bells toll throughout the city, an apt reminder of a day when many Americans went to houses of worship to pray.
Forty-seven minutes later comes a second moment of silence for when the South Tower was struck.
Names of the victims are read by family members and volunteers. Then the ceremony ends with taps, the haunting bugle call.
"It's goose-bump time for a lot of us; tears for others," says Doug Muzzio, a professor at Baruch College, City University.
At the ceremony, which takes place Friday at the site of the former towers, the Obama administration will be represented by Vice President Joe Biden and his wife, Dr. Jill Biden, as well as Homeland Security Secretary Janet Napolitano.
But many New Yorkers – while respecting the day – are pretty much back to normal, says Mr. Muzzio. "Time does heal wounds," he says.
For example, like other New Yorkers, he no longer freezes when he hears sirens. On 9/11, scores of fire trucks – sirens blaring – and hundreds of police cars headed for lower Manhattan.
Now, New Yorkers have become used to the police surges when 10 or 20 police cars weave through the streets with the sirens on. "And when there is an international incident, it evokes some of that feeling," says Muzzio, whose office is close to the New York Armory where relatives posted photos of their loved ones, hoping that someone knew of a hospital or a stranger's home where they might have gone or been taken.
---