Jay Leno: Five things to watch for in his new show
How will this new idea – topical comedy in prime time – work?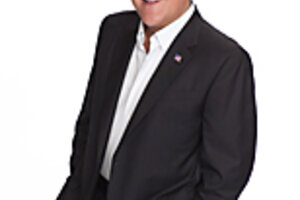 Mitchell Haaseth/NBC
It's not like Jay Leno hasn't done a public tightrope act before. The night he took over from Johnny Carson, his performance was scrutinized for how much folks laughed. Now, on Monday night, he'll be watched not only for that, but also for how this new idea – topical comedy in prime time – works.
So what exactly is the former "Tonight Show" host going to do with his new, 10 p.m. program? The secrecy surrounding the talk show before its debut might teach the Pentagon a trick or two about security. But some elements are now clear:
•One guest per night. The hour will feature one person instead of the multiple names who share the couch on standard, late-night talk shows. Graciously helping to launch his fellow comedian into unknown waters is Jerry Seinfeld on Monday night. Tuesday night's guest is Michael Moore, whose new documentary, "Capitalism, A Love Story," opens soon.
•No desk (reportedly). Leno, a lifetime motorcycle and car aficionado, will take that energy onto the stage, eliminating the seat-at-the-desk setup – a fixture on most talk shows.
•Green competition among guests. If this evokes a huh?, here's more: NBC built a special track just outside the show's soundstage on which the show's guests will be asked to compete in so-called "green" vehicles to see who is the fastest, toughest or just plain greenest.
---