Jay Leno ratings: How did his new prime-time show do?
The debut of the Jay Leno Show benefited from Kanye West's remorseful appearance, but many viewers were underwhelmed.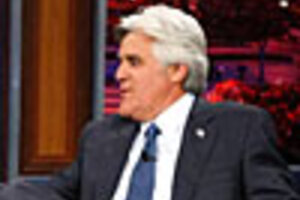 Justin Lubin/NBC Universal/Reuters
The mystery is over: Jay Leno's new prime-time comedy hour debuted Monday night, garnering underwhelming reviews across the blogosphere and almost 18 million viewers. Indeed, the show closely resembled Leno's old "Tonight Show," with few of the promised new elements in sight.
About 17.7 million Americans tuned in for Leno's new show Monday, according to early numbers from Nielsen Media. Roughly 5 million used to regularly watch his old "Tonight Show." [Story has been updated at 4:42 p.m. ET.].
Now, the $10 million question: Once the novelty has worn off, how many viewers will watch night after night? In a decidedly unscientific survey of audience response, the Monitor tuned into three demographic groups in the Los Angeles area for some insight on what the future may hold for "The Jay Leno Show."
"I would tune in again," says Katherine Carter, a 20-something who gathered with three friends in Marina Del Rey to take in the debut. "I thought it was really funny, but some of the skits went on too long." She adds, "It was a bit slow."
Her buddy, Eva Fedderly, has stronger reactions, saying she found the new Leno show "boring, with very little to actually sink my teeth into." She elaborates: "It was bland, and everyone seemed nervous and awkward." Sacha Bollas chimes in with a bit more support for the comedian. "I like Jay," he says. "I'm glad to see him back, although," he adds with a laugh, "he still kills punch lines." The clinical psychologist adds that although he did enjoy the show, he wouldn't tune in intentionally. "I might stay with it if I found it channel-surfing," he says.
---