How David Letterman is able to control the narrative on affairs
With his own network show seen by millions, Letterman can spin the sex-scandal story his own way without facing tough questions. At least for now.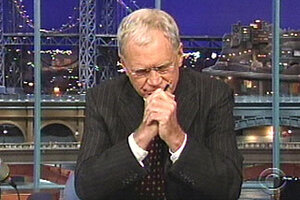 CBS/AP
David Letterman may be in the doghouse at work (and possibly at home) for the foreseeable future as a result of the on-the-job affairs to which he admitted on-air. But he's getting high marks from several PR professionals, media watchers, and legal observers.
"Letterman's approach to the extortion attempt against him is pitch-perfect," says public relations professional James McIntyre, senior communications counsel at McClenahan Bruer Communications, adding that he did the same for revelations about his personal behavior. "The most straightforward approach to a scandal is 'face it and replace it,' which sums up what Letterman has done here."
Often, celebrities and politicians alike cower when it comes to public accounting for misdeeds, says longtime public relations consultant Ron Sachs, who counseled then Florida Governor Lawton Chiles on how to handle the fallout from the murders of foreign tourists during the 1990s.
"They allow the news to break around them, then respond evasively and defensively," says Mr. Sachs, who points to a recent example of this behavior as South Carolina governor Mark Sanford.
"Instead of waiting for the scandalous facts about his dalliances with female members of his own 'Late Night' show staff to break on the national publicity landscape, Letterman 'outed' himself to his in-studio and viewing audience," says Sachs.
---