Beyond Letterman, office romance a prickly issue in US workplaces
The scandal points to a gray area in office policies. Many businesses have yet to clarify guidelines for workplace relationships.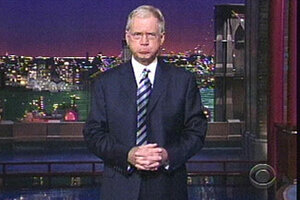 CBS/AP
For all the extraordinary elements of the David Letterman scandal, so far his situation lands within a wide gray zone for workplace behavior.
Leave aside the fact that he's a television personality and the alleged victim of a bizarre extortion attempt, and what's left is a kind of complicated mess that can arise in businesses across the United States. Americans generally say it's inappropriate for someone to enter sexual relationships with office subordinates, as Mr. Letterman did. But such actions aren't necessarily grounds for discipline, although they can cause deep concern within organizations.
Often, workers aren't disciplined because the situation includes no formal complaint of sexual harassment or of a "hostile work environment," in legal jargon. If an employee files such a complaint in the Letterman affair – or in any other workplace – the game changes.
Short of that, the gray zone exists.
According to experts on human-resource policies, companies might sometimes take action – including the possible step of asking an executive to leave his or her job.
At the same time, though, romance can't be totally ruled out of workplaces, these experts acknowledge. And many companies that have long had policies on harassment are more or less at Square 1 when it comes to defining the parameters of office romance.
"Every company should have an office romance policy," says Rania V. Sedhom, a principal at Buck Consultants, a human-resources consulting firm based in New York. "What companies should not do is ban relationships altogether."
---