California may pull the plug on power-guzzling flat-screen TVs
The California Energy Commission next week takes up new energy efficiency standards for flat-screen TVs sold in the state.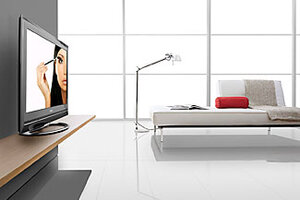 Business Wire
The state that first championed the ban on energy-hogging refrigerators in the 1970s now has its sights set on power-hungry TVs.
The California Energy Commission (CEC) could adopt new efficiency standards for televisions with screens smaller than 58 inches as early as next week. If the commission OKs the requirement at its Nov. 4 meeting, TVs sold in the state will have to be 33 percent more efficient by 2011 and consume 49 percent less energy by 2013.
The move is meant to curtail on the amount of electricity used to fuel Californians' TV habit, which has been growing as consumers continue to buy larger and cheaper flat-screen sets that use more power. Televisions and their various accessories – such as DVD players and cable boxes – now account for about 10 percent of an average home's electric bill in California.
"Electricity use by televisions is growing," says Adam Gottlieb, CEC spokesman. "Two percent of the state's energy consumption goes to power televisions."
In the end, says Mr. Gottlieb, compelling manufacturers to sell more energy-efficient TVs will amount to saving consumers and the state a lot of money. He says it will conserve enough electricity to power 864,000 homes annually and add up to $8.1 billion in savings over the next decade.
While environmentalists are applauding the move and some manufacturers have backed the proposed standards, the Consumer Electronics Associations, a trade group, is steadfast in its opposition.
It says the regulations would cost California $50 million in lost tax revenues, due to the drop in TV sales, and result in 4,600 lost jobs.
---