Fort Hood shootings: US Muslims feel new heat
After the shootings at Fort Hood, Muslim communities across the US were swift to condemn the attack. But the incident has again raised image issues for Muslims, as well as questions about how to best counter radicalization.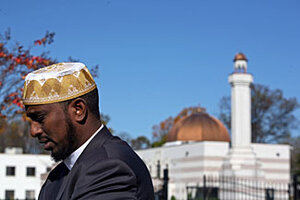 Katie Falkenberg/The Washington Times/AP
In the hours after officials identified Maj. Nidal Malik Hasan, a Virginian of Palestinian ancestry, as the shooter at Fort Hood, Texas, on Nov. 5, US Muslim groups quickly condemned the attack. Religious and community leaders were eager to assure the nation that Muslims were appalled by the day's violence.
"It's our job to make sure that the actions of one individual aren't going to generalize an entire faith community," says Ibrahim Hooper, national communications director for the Council on American-Islamic Relations (CAIR).
About 2.35 million Muslims live in the United States, according to a 2007 survey by the Pew Research Center. The majority are middle class, moderate, and assimilated into American society, according to the survey. A small minority, however, hold radical views, and at least 60 have been charged with plotting domestic terrorist attacks. Rightly or wrongly, these actions are coloring perceptions about Muslims.
The shooting at Fort Hood follows a string of foiled domestic terrorist plots. In September, a Denver airport-shuttle driver was charged with plotting to explode chemical bombs in New York. He is an Afghan immigrant. Around the same time, two Muslims were arrested for allegedly trying to blow up buildings in Texas and Illinois. Last month, a Detroit imam whom authorities say wanted a separate Islamic state within the US was killed in a shootout during a Federal Bureau of Investigation raid.
---