Police: Census worker Bill Sparkman staged his suicide
Kentucky police said Tuesday that Bill Sparkman, the census worker found hanged with "FED" written on his chest, was trying to make his suicide look like a murder for insurance purposes.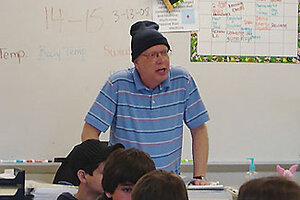 Times Tribune/AP/File
Bill Sparkman, the Kentucky census worker found hanged and wrapped in duct tape with the word "FED" scrawled on his chest, concocted the entire scenario as an elaborate ruse to commit insurance fraud, Kentucky police said Tuesday.
Kentucky State Police said the 50-something substitute school teacher and part-time census worker committed suicide. They said he tried to make it look like a murder in an attempt to force two insurance companies to pay out policies that did not cover suicide to his remaining relatives.
Unable to find evidence of foul play and noting that the letters in "FED" were written from the bottom to the top in a way that an assailant would have found difficult to do, police ultimately came to a simple conclusion: "He could've stood up, taken the pressure off his neck, and not died," Kentucky State Police spokeswoman Lisa Durzinski said.
The discovery of Mr. Sparkman's naked body in the Daniel Boone forest on Sept. 12 came at a time of heightened concern about anti-government violence. A Department of Homeland Security report earlier this year warned of the potential for rising domestic extremism, and a spate of shootings by white supremacists – in Pittsburgh and at the Holocaust Museum in Washington – seemed to suggest the increasing alienation of anti-government groups on the far-right fringe.
---