Why Accenture is the first company to ditch Tiger Woods
Accenture announced Sunday that it is ending its sponsorship of Tiger Woods because of the current scandal. Accenture tied its brand to Woods more closely than did any other company.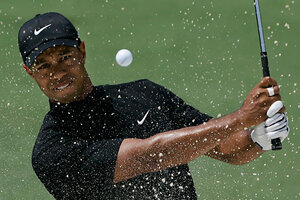 Elise Amendola/AP/File
Accenture became the first sponsor to drop Tiger Woods because of the scandal surrounding his confessed infidelity.
The move by the consulting company, announced Sunday, comes on the heels of several tepid statements of support this weekend from Mr. Woods's sponsors. It also comes after Woods released a statement Saturday admitting to infidelity and announcing that he planned to take an "indefinite" break from golf to get his personal life in order.
Accenture's announcement raises questions about how Woods and his team of advisers have handled the daily allegations of mistresses. Woods's repeated insistence that he be given privacy to try to heal the relationship with his wife, while understandable, has allowed the story to spiral out of control while he has remained largely a bystander.
This put Acccenture "in a more precarious position than anybody else," David Martin, president of Interbrand Corp.'s New York division, told Bloomberg.
More than any other company, Accenture used its advertising campaign to tie its own values to Woods, including the slogan: "Go on. Be a Tiger." While these values were always related to his golfing prowess – tenacity, strength, innovation – Woods's precipitous and tawdry fall from grace made it impossible for Accenture to keep him as essentially the face of the company.
---