For Accenture, breaking up with Tiger Woods is hard to do
Corporate consultancy Accenture announced Sunday that it is dumping Tiger Woods, but it has bound its image so closely to Woods that it even put him on its stationery.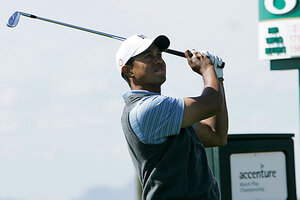 Ross D. Franklin/AP/File
Dropping Tiger Woods is not as easy as taking down a few billboards or canceling a media campaign.
For Accenture, the corporate consultancy that on Sunday announced it would discontinue its six-year relationship with the celebrity golfer, Woods is so tightly intertwined in every component of its brand – appearing even on company stationery – that it must now essentially start from scratch to redefine itself to the public and its clients.
The enormity of the marketing challenge facing Accenture is leading some in the marketing industry to take a look at the wisdom of resting an entire corporate identity on a single individual.
"No matter how blue chip a stock is, it can always go bad on you," says Jeremy Mullman, sport marketing reporter for Advertising Age.
An unusual sponsorship
To be sure, celebrity endorsements are not rare, but they typically do not last as long as the six years Accenture spent with Woods, says Mr. Mullman. Part of Mr. Woods's allure – apart form his phenomenal talent – is that he plays golf, a sport largely free from the issues plaguing other sports, from drug use to violent and criminal behavior.
While Woods collected revenue from a pool of high profile sponsors, including Nike, Gatorade, and video game-maker Electronic Arts, his relationship with Accenture was considered unusual. Woods did not endorse a particular Accenture product or service, but instead became the face of the company itself.
---
Follow Stories Like This
Get the Monitor stories you care about delivered to your inbox.