In hard times, Americans innovate on holiday gifts and giving
Americans say they'll spend less this holiday season because of hard times. But they're finding innovative ways to give, everything from regifting to donating their time to good causes.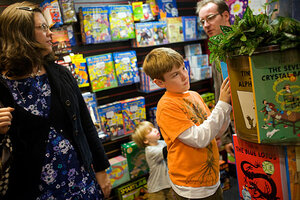 Sarah Beth Glicksteen/The Christian Science Monitor
Ron Artesia of Toluca Lake, Calif., says his family has a "no gift" rule this Christmas.
"I know that formally spelling it out sounds kinda fascist, but we have to really toe the line or someone will bend the rule and all heck will break loose," says the auto mechanic and father of four.
Mr. Artesia's weekly hours at the shop were cut this year from 55 to 38, and his wife was let go from her position as a teacher at an elementary school. The family income is roughly half what it was last year.
The Artesias' new rule is a sign that Christmas 2009 may well be one of the more creative holiday celebrations in recent memory, as Americans consider new observances in the face of 10 percent unemployment, furloughs, and trimmed work schedules. From forgone gifts to strict spending limits to the oft-maligned practice of regifting, people are adapting the holidays to hard times.
"Consumers are facing financial difficulties in unprecedented numbers due to the rising tide of unemployment ... across all socioeconomic categories," says Ron Hill, a professor at Villanova University in Pennsylvania who studies consumer spending habits. "Under these circumstances, popular wisdom is that people will cut back on purchases in order to use money more wisely on needed goods and services."
---